Trezor vs Ledger for NFTs – Which is the Better Hardware Wallet?
Trezor vs Ledger for NFTs is a common debate among crypto users. The main wallets from these manufacturers use the cold storage technique, support over 1,500 cryptocurrencies, and have integrated almost all major crypto exchanges.
Did you know that your NFT holdings are not safe in online (hot) wallets? Though these wallets are used for online transactions, being constantly connected to the internet makes them vulnerable to attackers.
Therefore, hardware (cold) wallets come in handy to safeguard your crypto assets as well as your passwords.
In today's post, we will compare the two most popular hardware wallet providers, i.e., Ledger vs. Trezor.
At the time of writing, Ledger has the following main hardware wallets:
Ledger Nano S Plus
Ledger Nano X
Ledger Nano S
On the other hand, Trezor features the following main hardware wallets:
Here, we are comparing the Trezor model One and model T to the Ledger Nano S, Ledger Nano S Plus, and Nano X.
Trezor is a subsidiary of SatoshiLabs. It was launched in 2013 and is based in Praha, Czech Republic. On the other hand, Ledger was established in 2014 and is based in Paris, France.
Choosing the best hardware wallet between Trezor vs Ledger for NFTs is crucial because the safety of your NFTs relies on the wallet you have kept them on. Nonetheless, safety isn't everything. I will compare Trezor and Ledger wallets considering the following factors:
Coin support
Security
Staking
Privacy
Fees and price
Open-source
Despite the differences between these products, you must understand that. The best hardware wallet for storing NFTs depends on your individual needs.
Which is better, Ledger or Trezor for NFTs?
In the Ledger vs Trezor for NFTs debate, Ledger is the way to go if you're looking for a wallet that provides more functionality. It offers more options to store different cryptocurrencies, has more integrated apps, and supports more coins than Trezor.
Ledger and Trezor are industry-leading wallet-providing companies offering some of the most reliable and secure cold wallets. Their wallets support EIP-721 standard NFTs and can be connected to online wallets, like Metamask, without sharing important information online. They come in different models with different features. The right wallet will vary from person to person, depending on personal requirements.
In the Ledger vs Trezor comparison, Ledger is also cheaper in terms of pricing than Trezor, meaning that if you have a tight budget, you should choose Ledger over Trezor.
Below is a side-by-side comparison of the Ledger S against the Trezor One wallet:
| | | |
| --- | --- | --- |
| | Ledger Nano S | Trezor Model One |
| Price | $59 | $77 |
| Free shipping | No | Yes |
| Number of supported networks | 3 | Unlimited |
| Transaction confirmation | 2 square buttons | 2 square buttons |
| Connection | Micro USB | Micro USB |
| Screen color | Monochrome | Monochrome |
| Chip base | Double | Single |
| Size | 4.1in x 2.3in x 0.2in | 2.4in x 1.2in x 0.2in |
| Staking | Directly on the Ledger platform | Possible through a third party |
| Seed phrase | 24 words | 24 words |
| Weight | 16.2g | 12g |
| Operating temperature | -130F to 1220F | -40F to 1400F |
| Cold storage | Yes | Yes |
| Recover assets if the device is lost | Through a seed phrase | Through a seed phrase |
| NFTs | Yes | Yes |
| Material | Stainless steel/plastic | Reinforced plastic |
| Screen | 128 by 32 | 128 by 64 |
| Mobile app | Yes | No |
| Official link | Ledger Nano | Trezor One |
Trezor vs Ledger for NFTs: When is the Ledger Nano S the Better Hardware Wallet?
Choose the Ledger Nano S if you wish to keep a maximum of three (3) blockchain apps. The Ledger Nano S is an excellent choice for a low-cost and easy-to-use cryptocurrency wallet.
It's also one of the most secure wallets in existence today. Its security features include PIN code protection and two-factor authentication (2FA) through Google Authenticator or SMS/email.
Ledger Nano S is a good option for someone about to buy their first Ledger or Trezor wallet for NFTs and needs a budget-friendly package. It supports NFTs as well as around 1,100 crypto tokens. It can be connected to online wallets like Metamask.
However, the wallet has relatively low storage space. Only three apps can be installed in this wallet. Moreover, a USB hard-B port is given for connection to your computer. If you are not in a USB Type-C ecosystem, then you are good to go.
READ ALSO: 10 best crypto wallets for OpenSea
According to Ledger's website, this hardware wallet supports the following cryptos and coins:
Bitcoin (BTC)
Binance Coin (BNB)
Bcash (BCH)
Cardano (ADA)
Dogecoin
Dash
Ethereum Classic
Ethereum (ETH)
EOS
Monero
Ripple (XRP)
Steller
Tether (USDT)
Tron (TRX)
Vertcoin
Zcash
The most significant limitation of this wallet is that you can only store 3 blockchain applications on it. This brings us to the next hardware wallet in this comparison – the Trezor Model One.
When is the Trezor Model One the Better Hardware Wallet?
Choose the Trezor Model One if you will store more coins, as this wallet can take unlimited blockchain networks. Your only limitation is the space in your device.
The fact that the Trezor Model One can store unlimited blockchain apps doesn't mean it doesn't have its limitations. You must note that it doesn't support all blockchains.
According to the Trezor website, this hardware wallet supports more than 1000 coins and tokens. You can check their website for the complete list of tokens and coins compatible with the Trezor Model One.
Trezor Model One is another budget-friendly wallet as it is similar to Ledger Nano S in terms of cost. It supports NFTs and more than 1,000 types of coins. What makes it different from other wallets is its colored screen which shows information before approving any action. Therefore, the user always knows what they are transferring. This feature reduces the confusion at the user's end to a great extent.
Two main factors make the Trezor Model One a better choice in the Trezor vs Ledger for NFTs debate:
The Trezor Model One has NFC support, which means it can communicate with compatible devices such as smartphones via near-field communication (NFC). This allows you to make payments without connecting your devices to a computer. It also means you can use their mobile phone or another NFC-enabled device as a hardware wallet by simply tapping it on their hardware wallet.
The Trezor Model One uses multiple private keys (one per address), making it more difficult for hackers to access your funds because they would need more than one key. In contrast, most of its competitors use one private key per address, making them easier targets for hackers.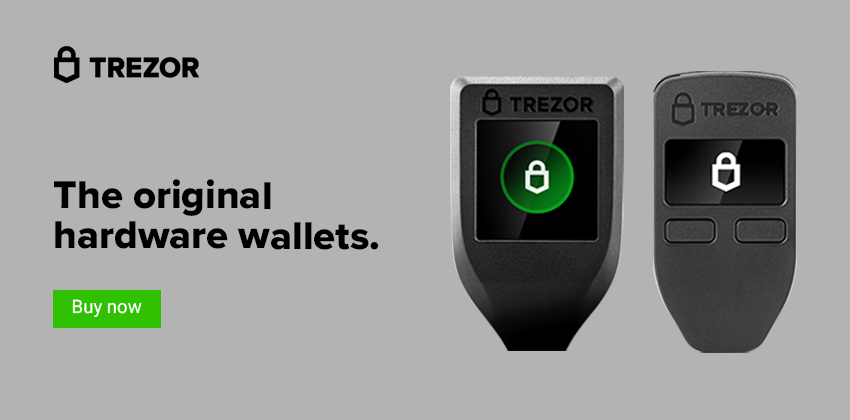 When is the Ledger Nano S Plus the Better Hardware Wallet?
The Ledger Nano S Plus is perhaps the best hardware wallet in the Trezor vs Ledger for NFTs and DeFi. Also, thanks to the Ledger Live app, you can easily monitor your NFTs on this hardware wallet.
If you're after a user-friendly wallet option, consider Ledger Nano S Plus. It comes with Bluetooth connectivity and can be connected with Ledger Mobile App on both iOS and Android devices.
Moreover, Ledger Nano S Plus has an updated USB Type-C port that works perfectly with all modern devices, making the connections convenient. The wallet also has a better screen than Ledger Nano S, and above all, thanks to the increased storage, Ledger Nano S plus can support up to 100 apps. It provides bank standard security, and its dual security chips can defend against hardware attacks.
Ledger Nano S plus's onboard display and buttons allow it to quickly exchange coins and tokens between different wallets on the device. This is helpful when handling high-value items that you want to move around quickly and securely.
When is the Trezor Model T the Better Hardware Wallet?
In the Trezor vs Ledger comparison, the Trezor Model T is ideal for you if you mostly handle many different cryptos. Among all Trezor hardware wallets, the Model has the largest space.
Trezor Model T is the top-end hardware wallet from Trezor. It comes with a 240×240-pixel touch screen which gives you more control and the option to interact with the wallet directly. It isolates your private keys and keeps them safe offline, thus, preventing any online theft.
Trezor Model T also connects seamlessly with all USB Type-C devices. However, all this comfort and convenience comes at a price. Trezor Model T is among the most expensive Trezor vs. Ledger for NFTs options.
Also, this is the only Trezor wallet with a color display screen. However, it is also the pricier option.
Regarding storing NFTs, the Trezor Model T has some advantages over its competitors. First, it supports ERC721 tokens on its hardware and web wallets. You can use your Trezor Model T to store all kinds of NFTs.
The other significant advantage of using this hardware wallet is that it doesn't require downloading anything except the Trezor Bridge before you start using it. This makes it much easier to set up than Ledger or other wallets, which require you to download and install software into your computer or mobile device to use them.
When is the Ledger Nano X the Better Hardware Wallet?
If you are stuck on the Trezor vs Ledger comparison, and the budget is not a limitation, you can't go wrong with the Ledger Nano X. The Nano X is arguably the best hardware wallet on the market, with a few caveats.
Nano X is Ledger's top-end hardware wallet and is considered a competitor to Trezor's Model T. However, its cost is significantly lesser than that of Ledger Nano X, making it a great value for top-end hardware wallet.
Ledger Nano X comes with all the features of Ledger S Plus and more. It supports up to 100 apps and can also be connected to your hot wallets like Metamask. While the Ledger Nano X lacks the touch screen, it comes with a much smaller form factor. Therefore, it is easy to carry around. Ledger Nano X's stainless steel build gives it a premium and durable feel too.
It is also the best choice when you have multiple digital assets that you want to store securely on a hardware wallet.
The battery life of the Ledger Nano X lasts for a whopping 8 hours in standby mode and 3 hours when active. Thanks to this, you can make transactions on the move.
It offers a screen, touchscreen interface, and an internal battery to display information while disconnected from an outlet or computer.
Additionally, the Ledger Nano X wallet has a new Bluetooth feature that allows you to connect to your smartphone and receive notifications about transactions.
Trezor Suite vs Ledger Live user interface: Trezor vs Ledger Comparison
Trezor also has its app called the Trezor Suite, but I found that it's not as easy to use as the Ledger Live. The latter also lets you check and manage your held NFTs on a more advanced level than the Trezor Suite.
Ledger vs Trezor for NFTs: Coin Support
When choosing between Ledger or Trezor for NFTs, the Ledger supports over 1,000 cryptocurrencies, including Bitcoin and Ethereum. It also has support for altcoins like Polkadot (DOT), Litecoin (LTC), Stellar (XLM), Dash (DASH), LINK Chainlink (LINK), and Cardano (ADA).
Trezor also supports hundreds of coins, including Cardano, Monero, EOS, ZCash, Bitcoin, and Ethereum, but it does so through MyEtherWallet's Interface.
While both companies support most of the cryptocurrencies out there, Ledger supports a few more tokens than Trezor. Some of the popular currencies supported by these wallets are Bitcoin (BTC), Ethereum (ETH), Seller (XLM), and Polkadot (DOT).
Though both wallets support a wide range of coins, Ledger is better than Trezor on coin support since it directly supports cryptocurrencies, unlike Trezor, which indirectly facilitates coin support through MyEtherWallet's Interface.
All the Ledger wallets, including Ledger Nano S, Ledger Nano S Plus, and Ledger Nano X, support the same amount of currencies. However, Trezor Model One supports fewer currencies than Trezor Model T.
The Trezor Model One does not yet offer compatibility with popular coins like Cardano (ADA) and Binance Coin (BNB). The Trezor Model One is a restricted choice that suits a limited number of users.
Ledger vs Trezor Comparison: Security
Both Ledger and Trezor wallets for NFTs come with top-of-the-line security features. While Ledger uses a double-chip-based security system, Trezor uses a single-chip-based security system.
The second chip on the Ledger is called Secure Element (SE). SE is used in mobile sims, passport chips, ID chips, etc., making it invulnerable to most physical attacks. While Trezors single chip-based security system defends it against any software threats, physical attacks still remain a problem with the Trezor wallets.
Moreover, Ledger wallet uses its own operating system called BOLOS. Thus, there is no risk of any potential information leak to third parties. On the other hand, Trezor uses open-source firmware, which comes with a risk of security breaks by third-party apps.
Trezor wallets typically use a physical token to sign transactions and verify and encrypt your data. Your private keys are never stored on your computer or device, making them completely inaccessible to hackers.
On the other hand, the Ledger hardware wallet has an OLED screen for easy management of accounts and transactions. The device connects to any of your computers via USB cable and allows you to use your cryptocurrencies without worrying about security issues. Both of these security strategies score pretty the same.
Ledger vs Trezor for NFTs: Staking
Staking is a process by which crypto holders put their assets to work and earn passive income by committing them to support a blockchain network.
It is one of the most important features that users usually look for in the Ledger vs. Trezor comparison. In staking, users lock their assets to validate the transactions and the network's security. Users get rewards for their staked assets.
In the Ledger vs Trezor for NFTs comparison, both have features that allow you to stake your coins and earn some rewards. It is possible through both Trezor and Ledger devices.
Ledger wallet allows the users to stake up to 7 coins directly on their platform or through third-party apps or wallets. This way, you can earn some extra assets by locking your assets for a fixed amount of time.
To stake coins with the Ledger wallet, you need to download the specific staking app from their website and install it on your computer before connecting it to your Ledger device. You can then send coins from your ledger wallet to the staking app.
Trezor does not provide staking features directly on their platform. Users have to go with an external wallet to stake their assets. Hence, in terms of stalking, Ledger wins the Ledger vs. Trezor for NFTs debate.
Trezor staking requires downloading a third-party app called Trezor Wallet, which gives you access to different coins to stake.
Ledger vs Trezor for NFTs: Privacy
Both Trezor and Ledger offer some level of privacy, but they don't go as far as setting up a VPN or Tor connection to their servers. If you use a Trezor or Ledger device, your IP address will be visible to anyone who wants to know where you live or work.
The good news is that both wallets don't have access to your private key. Users can still receive funds from other wallets without providing personal information about themselves or their location.
Both wallets do an extraordinary job at keeping the privacy of their users uncompromised. Private keys and passwords never leave the wallet. Both wallets allow you to set up a 24 word seed phrase which is used to secure your account.
Moreover, Ledger and Trezor allow users to have hidden accounts on top of their main accounts. Users can distribute their total holdings into multiple accounts. This will provide an added layer of security. If a criminal forces you to open your wallet, you can simply open an account with fewer assets. In this way, you won't lose all your funds.
These hidden accounts are also opened with the same 24 words seed phrase that is used for the main account. However, Ledger lost some of its credibility in a recent data leak in 2020. Users should keep this in mind while considering Ledger or Trezor for NFTs.
Ledger vs Trezor for NFTs: Fees and Price
While Ledger and Trezor wallets can be purchased from different vendors on the internet, it is highly advised to buy them from the official website of the respective company.
Trezor's latest model, the Trezor Model T, is much more expensive than Ledger's latest model, Ledger Nano X. Trezor Model T comes at a hefty price of $280, $131 higher than the Ledger Nano X, which is priced at a sweet spot of $149. However, with a concession of $131, you lose on having a touchscreen.
But their base models of Trezor and Ledger, i.e., Trezor Model One and Ledger Nano X, both are priced low and at a similar price of $59.
The Ledger wallet costs $59, while the Trezor wallet costs $175.
Both devices charge a fee for transactions that require two-factor authentication. The Ledger charges 0.0005 BTC per transaction, while the Trezor charges 0.0001 BTC per transaction.
Generally, Ledger is cheaper to acquire but has higher transaction fees than Trezor.
Ledger vs Trezor Comparison: Open Source
Ledger uses its own closed-source operating system called BOLOS which stands for Blockchain Open Ledger Operating System. This shows that bugs and errors in Ledger can only be solved through its own firmware. Having a closed source firmware also means that Ledger's codes are not available to everyone. It means the security cannot be compromised easily.
On the other hand, Trezor uses open-source firmware. Using open-source firmware makes it a lot easier to solve bugs and errors. But to make this possible, developers have to make the codes of operating systems available to the public. Therefore, open-source firmware comes with a security risk.
Therefore, both Ledger and Trezor wallets are both open source. Anyone can freely access their codes to see how they work.
You can also download, clone, modify, and even store it on any computer in any location without being penalized legally.
With open-source, you know that there is no hidden functionality that can compromise your security.
Ledger vs. Trezor for DeFi
DeFi is short for decentralized finance. Most cryptocurrencies are decentralized these days. It is essential to have a wallet that allows you to store these decentralized crypto assets.
Thankfully, both Ledger and Trezor offer DeFi support. Users can connect their Trezor wallet with Trezor Suit, an online browser that allows them to buy, sell, lend, borrow, and exchange coins on DeFi platforms.
On the other hand, the Ledger live app allows the Ledger wallet users to buy, sell, exchange, or even stake their DeFi coins
Decentralized Finance (DeFi) is an emerging space within the crypto universe that is gaining a lot of admiration. It's a collective term for financial products and services on public blockchains, like Ethereum.
DeFi is designed to transform traditional banking services, such as lending, borrowing, earning interest, buying insurance, trading derivatives, trading digital assets, and more, quickly and conveniently.
There is no paperwork involved or intermediaries to verify transactions. Furthermore, DeFi is borderless, peer-to-peer, pseudonymous, and can be accessed by anyone with an internet connection and a digital wallet.
The two most popular hardware wallets for DeFi are Ledger Nano S and Trezor; both have their pros and cons, so you should choose one based on what suits your needs best!
Conclusion
The general conclusion from the Trezor vs Ledger for NFTs comparison is that both wallets support most digital assets. However, their display features, security measures, and prices differ.
Trezor vs. Ledger for NFTs is a trendy debate in the crypto community because hardware wallets from both companies come with great features.
Both wallet providers are an excellent choice for storing your NFTs and other digital assets. But you must consider different factors, such as NFT blockchain, security concerns, and your budget while deciding to purchase one.
If you are new to cryptocurrency, the Trezor One is ideal for you, but if you want a wide range of cryptocurrencies and NFTs, then you should go for Ledger Nano. In conclusion, prioritize your specific needs and concerns when selecting Ledger or Trezor for NFTs.